People are vulnerable to spreading myths; be aware of this and keep a safe distance from them. Many applicants believe them out of fear of losing out on something important, however, these misunderstandings might hurt your IELTS exam preparation and score.
Knowing these IELTS misconceptions, knowing how to avoid them, and spreading knowledge with correct guidance and specific IELTS tips and techniques from the right sources are the greatest ways to expose them. Let's take a look at the Top 9 IELTS Myths that we've discovered through conversations with our expert tutors.
Top 9 IELTS Rumors and Myths: Don't Believe Them!
Only Candidates with Excellent English Skills Receive an Eight-Band Rating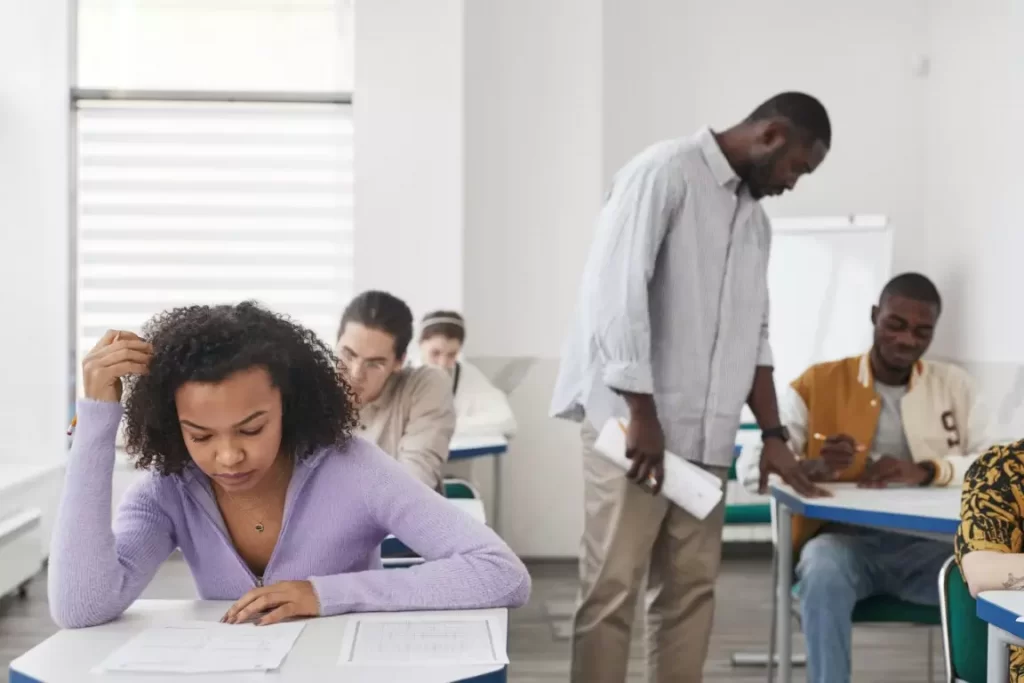 No, that is not correct! Candidates who have excellent English skills do not inherit them; instead, they work hard to achieve the status of "Good English Speakers." They practice, learn new words, watch English television shows, receive training, and much more!
You can certainly accomplish it as well! It is not impossible if you set a goal of 8 bands and are eager to learn.
Begin with the fundamentals and work your way up to the advanced level. You won't earn 8 bands through magic or luck, but you will get them through hard effort, practice, and training.
For Better Grades, Use More Words and Complex Sentences
This is another widespread IELTS myth: employing complex phrases and a larger word count would result in higher results. This is incorrect! Compound sentences should be avoided. You can use sophisticated terms if you like, but make sure the sentence isn't too difficult to accept.
This is especially true for IELTS Writing Tasks 1 and 2. Even if you write exactly the word count, you can still get decent results. Simply make sure you write at least the required number of words.
Also, for IELTS Listening and Reading, make sure you follow the rules regarding the word limit. Do not write anything else than what is specified in the instructions.
The Examiner's Opinion Should Not Be Given or Differed From
You are asked to provide your opinion on questions in Agree/Disagree subjects in IELTS Reading, and the examiner observes and evaluates your response. If the question asks for your opinion, write statements like "I think/I believe/I feel." Please don't be fooled by this IELTS illusion.
In fact, if you don't express your opinion in these types of questions, you'll get a lower score for failing to meet the task achievement criterion.
You can also express yourself on the IELTS Speaking Test! It is not required that you agree with anything the examiner says. There are no points deducted as a result of this. Declare your viewpoint and back it up with a supporting statement.
Skimming and Scanning the Reading Text Is OK
No. Without skimming and scanning the texts, you won't be able to answer the reading question. Don't listen to anyone who tells you to skip this step! Don't use the school way of reading the question first and then looking up the answers. In the IELTS Reading exam, this will not work.
Start by reading the text attentively, underlining crucial points, reading the question, and then finding solutions. If you're taking a computer-based test, make a note of the context-defining keywords. Yes, some tactics from credible and real study materials can be used. However, in order to answer the questions, you must read the materials.
In IELTS Speaking, Use a British or American Accent
This IELTS Myth receives the most attention, although many students repeat it during their Speaking tests. You should be aware that a forced or false accent is not essential. You should speak with your native accent, which examiners will like.
Speak clearly and loudly with your genuine accent. Complete the duties, use good language, be fluent, and be self-assured. This, not faking an accent, is what is necessary.
Be Quick To Speak, Speak Quickly, and Make Them Laugh
You should speak at a moderate speed during your IELTS Speaking test, not too fast or too slowly. The examiner should be able to hear every word you say. Don't rush; saying fewer sentences as long as they're clear and audible, is OK.
Additionally, it is said that making the examiner laugh will provide you with an advantage. No, such IELTS myths should not be believed. Always keep in mind that you are not given a score right after your test. Your responses are recorded and examined by several examiners at a later time. So don't stress about making them laugh or about the fact that they didn't respond to your joke.
If You Take the IELTS Exam in Your Hometown or Country, You'll Get Better Results
This isn't correct. It is a frequent IELTS misconception that taking the exam in your own country or town will result in higher scores.
No. Don't believe any of these made-up stories. Due to employment or study, many test-takers no longer live in their hometown. There are various IELTS institutes in Surrey, Vancouver, and Abbotsford to make things easier for every aspirant.
The test format is the same in every IELTS test facility. Examiners and invigilators are held to the same high standards. Rather than resorting to such IELTS fallacies, take the exam wherever you feel most at ease.
IELTS Online Coaching Does Not Produce Satisfactory Outcomes
On this subject, there is a great deal of debate. But the answer is always the same. When it comes to IELTS Online Coaching, nothing compares to bad tuition. Every teacher wishes for their students to improve and do well on their tests. It doesn't matter to them whether they're teaching in a classroom or online. All they care about is that their pupils get an excellent education.
Many teachers learned how to use computers to deliver better training and not fail their students throughout the pandemic. You have the option of believing in such IELTS Myths or trusting your coach.
The IELTS Test Is a Trick
The IELTS test is not a trick. It is, nevertheless, a difficult exam. If you want to achieve a high band score on the IELTS, you must study diligently. Work on key abilities like grammar, vocabulary, and pronunciation, and examine yourself with IELTS Online practice tests regularly.
It's easy to become frustrated and use a lot of energy trying to figure out how to earn the best score possible. One of the key reasons why most applicants fall for IELTS Myths is because of this. Forget any shortcuts and instead focus on putting in long hours.
Conclusion
Make sure you're dealing with authorized IELTS tutors and use the IELTS Online practice tests. They work with high-quality materials. Make sure you don't believe these IELTS myths. You may also take advantage of the IELTS Online Coaching in Surrey, Vancouver, and Abbotsford.
We hope that this has answered your questions and that we have been able to protect you from such scams. If you hear a new IELTS myth, please contact us and we will add it to our list.